History of the HÖRMANN Group
In 1955, Dipl.-Ing. Hans Hörmann established an engineering firm for the project planning, construction and inspection of lightning protection systems. Its workforce: the founder himself and one other employee. By 1956, this had already increased to ten fitters.
By 1964, the founder had systematically expanded the product segments covered by the company and laid the foundations for its activities in the area of facade technology. The company was also putting out its feelers into other regions for the first time.
In 1962, Hörmann KG was founded in Stade as a partner for lightning protection, drywall construction and facade engineering in the north of the state.
The company entered the siren business in 1965, initially as a subcontractor.
After quickly becoming one of the select few suppliers for the German Federal Office for Civil Defence in Bonn, Hörmann established itself as the market leader for warning systems.
In the late 1960s, Hörmann entered the industrial engineering sector for the first time thanks to electrical installations for the new Volkswagen plant in Salzgitter.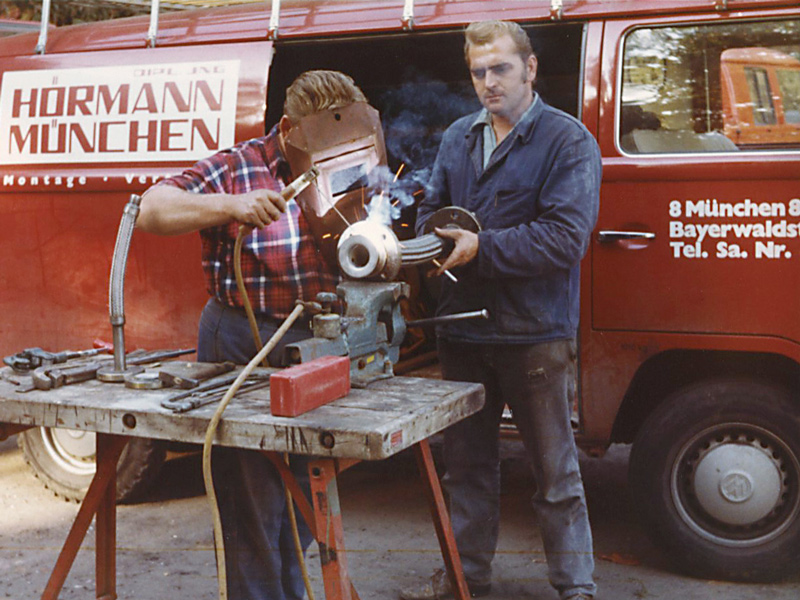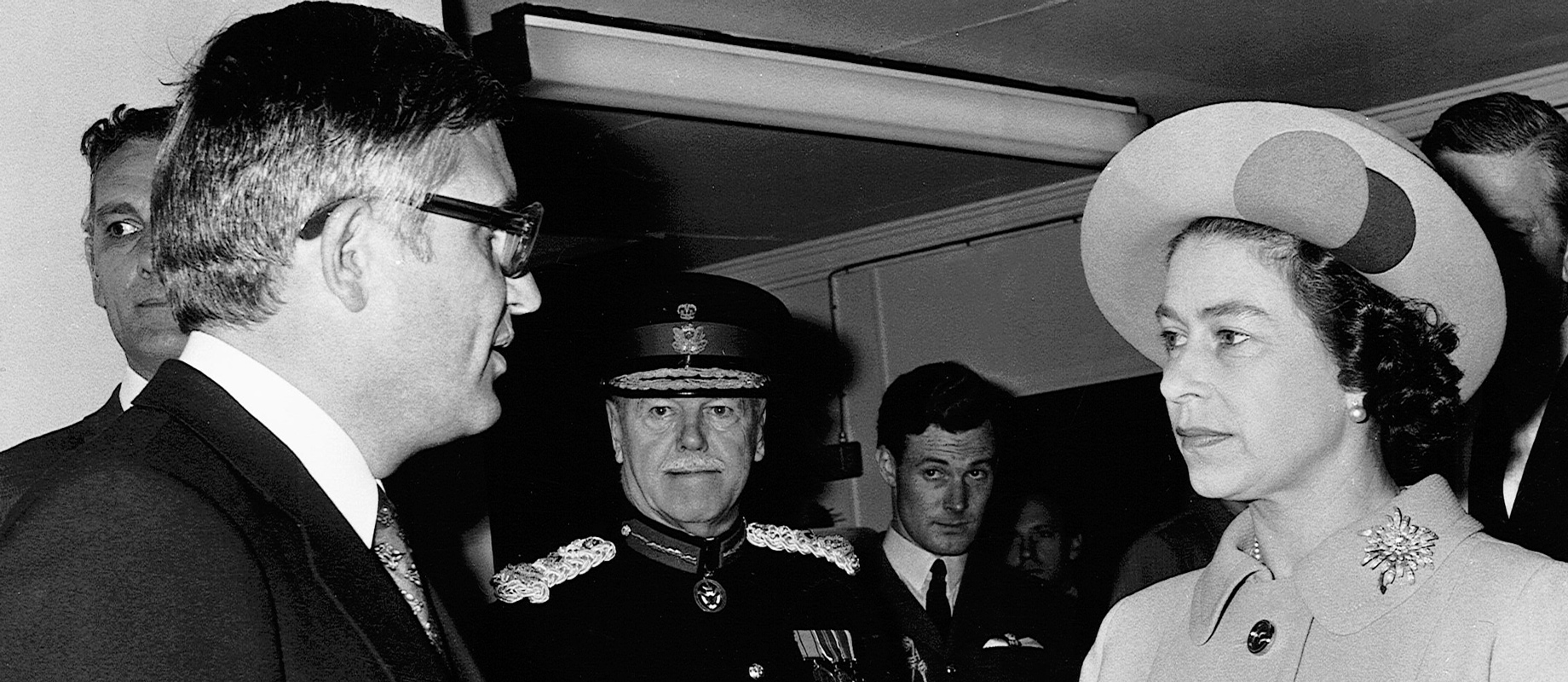 HÖRMANN GmbH Nürnberg was founded in 1970 for the planning and construction of prefabricated transformer stations.
In 1971, HÖRMANN became the global market leader for siren construction thanks to the development of the network-independent compressed air siren.
HÖRMANN Schwimmbadtechnik was founded in 1972 in response to the idea of the underground container for compressed air siren units. More than 1,000 underground swimming pools in this container form were delivered throughout Europe.
In 1976, the area of security technology was developed and expanded into Germany's third-largest provider, with intruder alarms and monitoring systems manufactured in-house.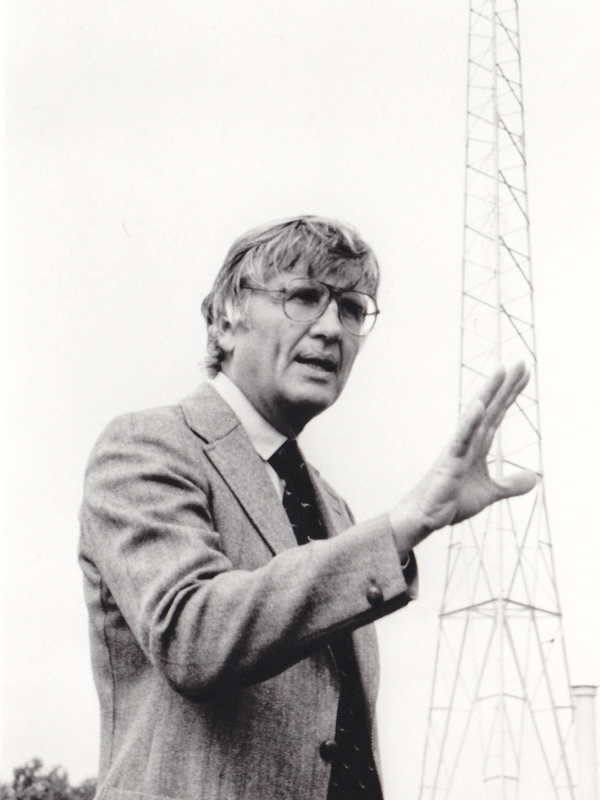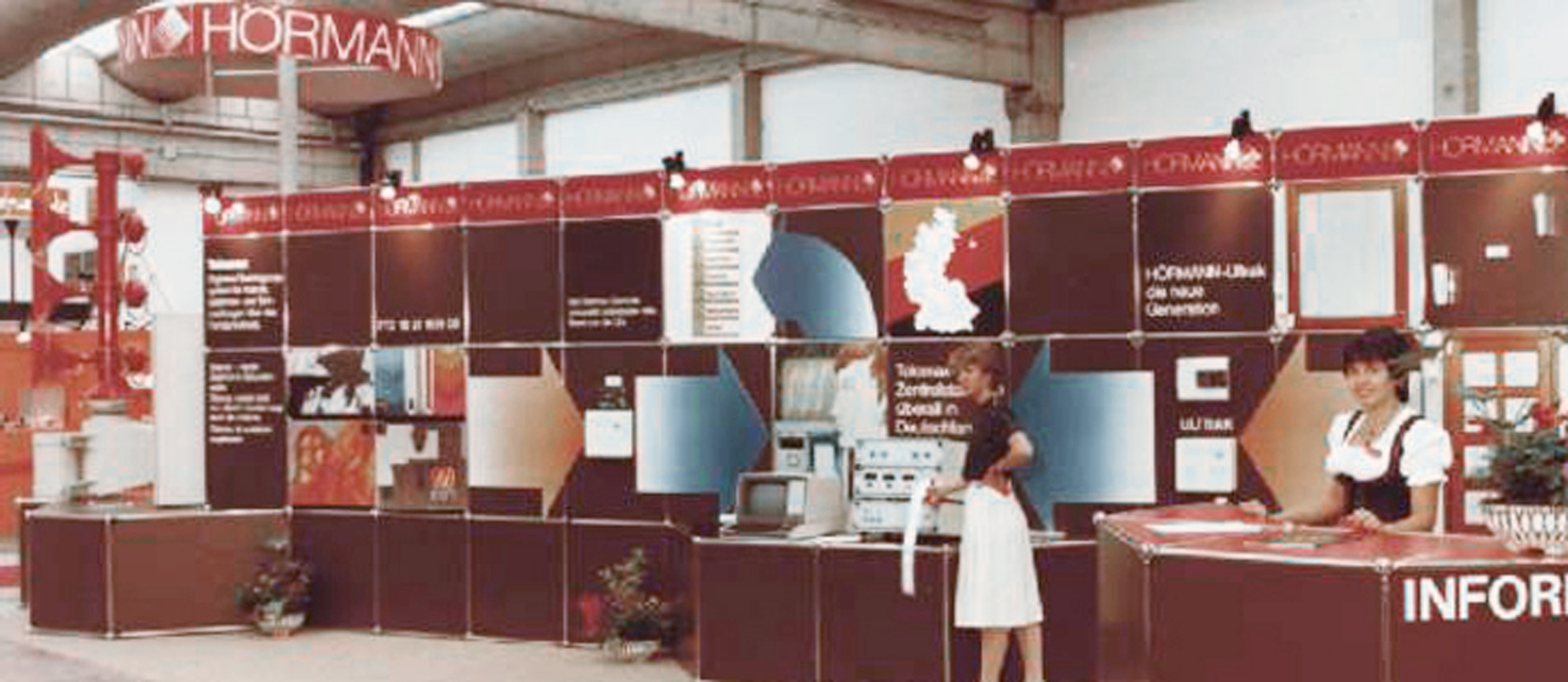 The company began the 1980s by moving to its current headquarters in Kirchseeon near Munich. In the years that followed, more and more parts of the company were spun off to create separate companies, such as facade engineering in 1982.
In the mid-1980s, the HÖRMANN Group established its first good business relationships in the GDR thanks to its long-standing contacts with the Volkswagen Group.
HÖRMANN Logistik GmbH was formed in 1987 as a system house for intralogistics systems.
In tough negotiations as part of the reform of siren maintenance and servicing in Germany by the German Federal Office for Civil Defence, Hans Hörmann won the majority of the maintenance contracts for HÖRMANN.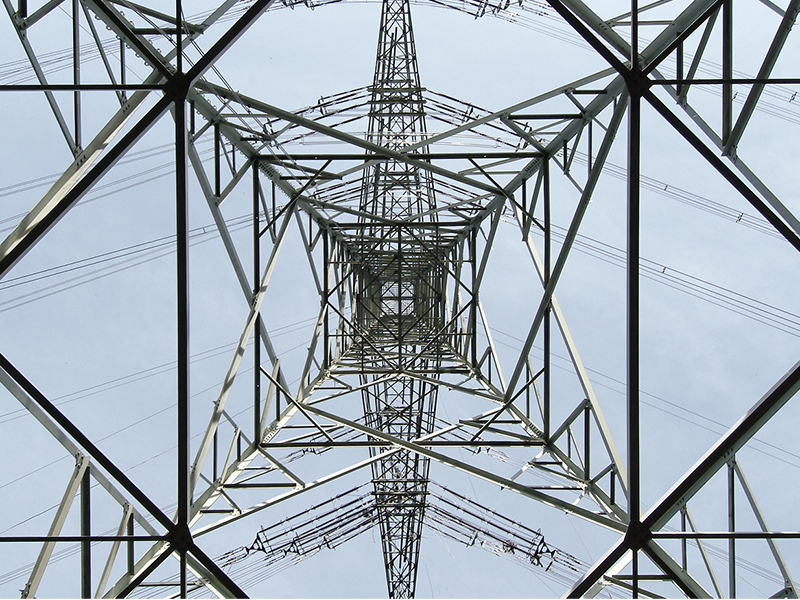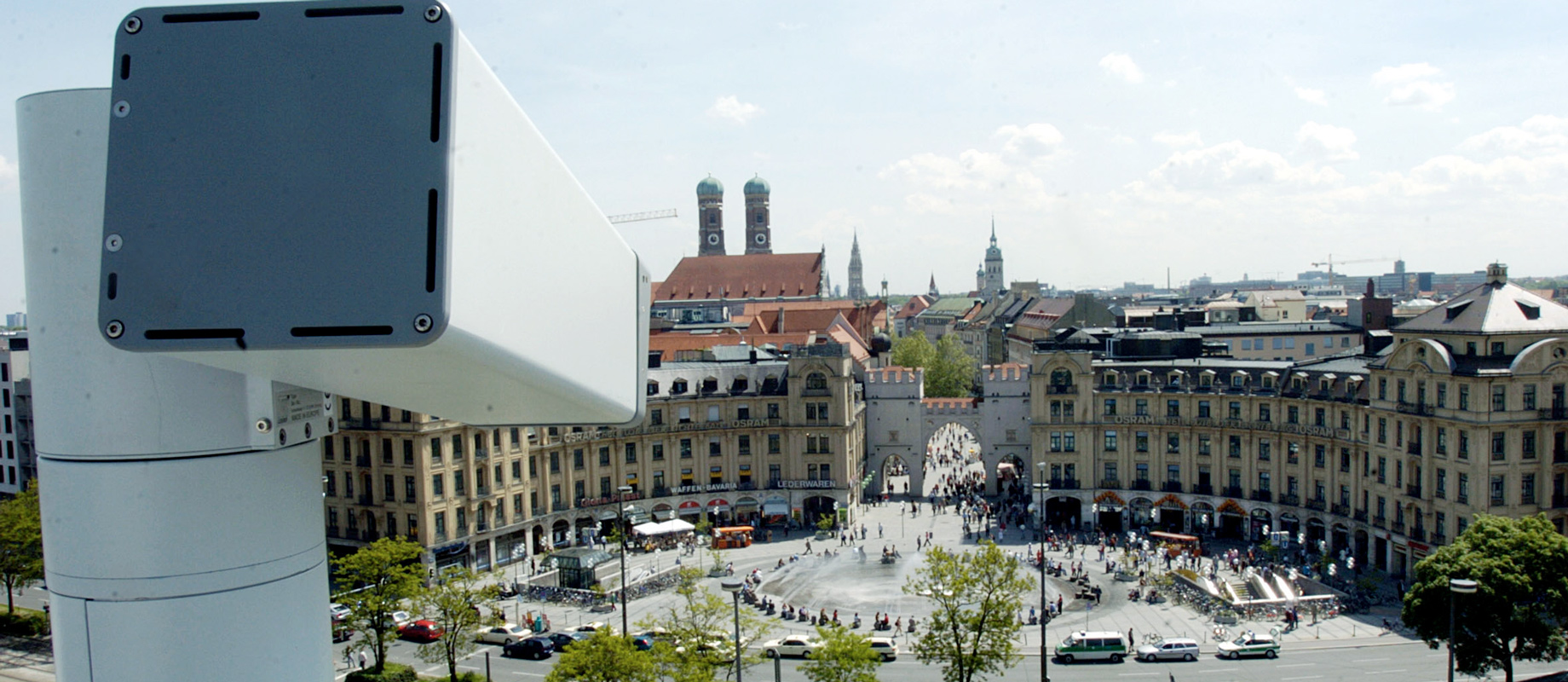 The fall of the Berlin Wall was followed by a period of particular growth for the HÖRMANN Group. HÖRMANN Barkas GmbH was founded in Chemnitz in 1989 and quickly expanded from 40 to 200 employees. Hörmann & Partner, a development and production operation for software and electronic control systems, was established in Chemnitz in 1990.
One year later, in 1991 – also in Chemnitz – the former Hochbauprojektierung Sachsen was acquired and renamed AIC Architektur- und Ingenieursgesellschaft Chemnitz. SITEC Industrietechnologie, a mechanical engineering firm for highly qualified specialist machinery and products, was formed in the same year.
1992 saw the acquisition of VacuTec Messtechnik in Dresden and Funkwerk Kölleda GmbH, a specialist for rail communication.
RAWEMA GmbH, an engineering company with excellent business contacts in the Soviet Union, was acquired in 1993. As HÖRMANN-RAWEMA, it offers highly qualified engineering services for vehicle development.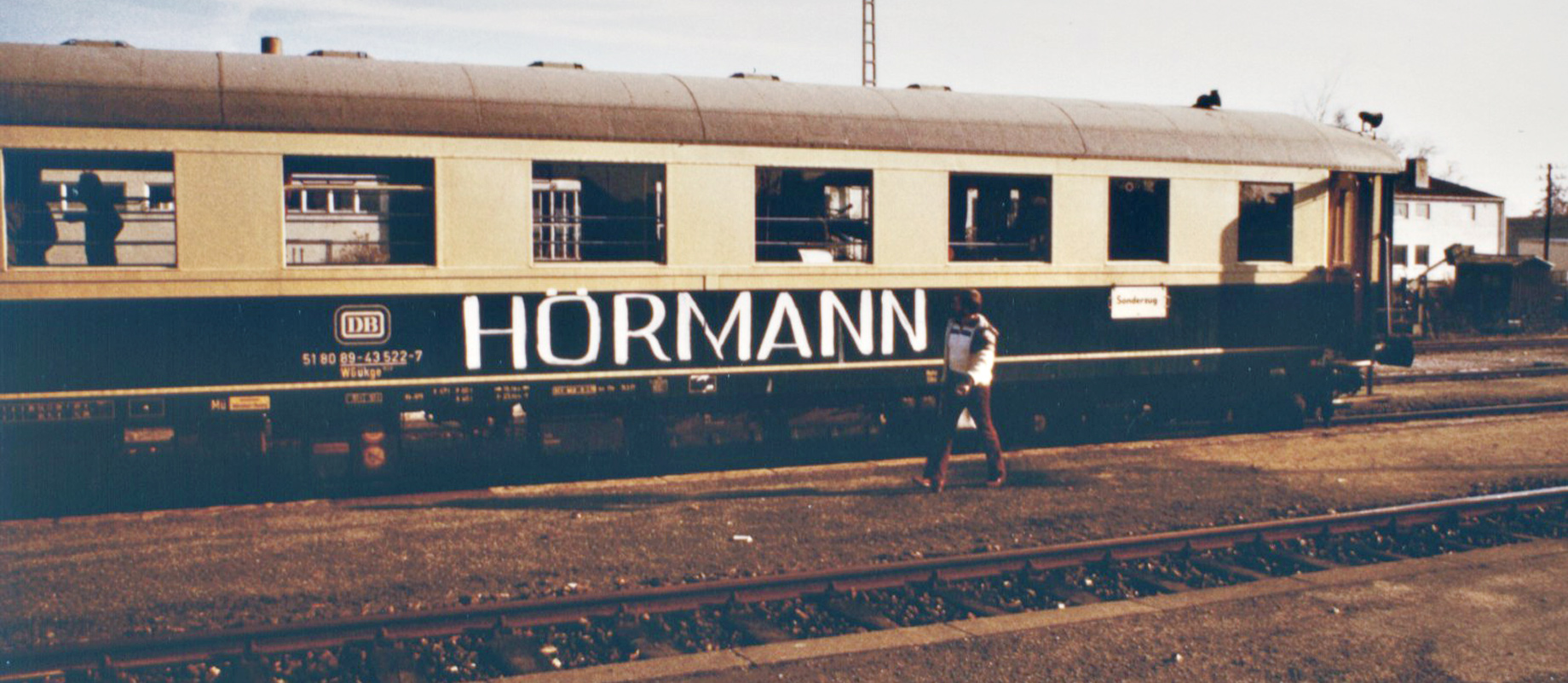 This was followed by the acquisition of ERMAFA GUSS one year later, which specialises in cast products for chemical plants, shipbuilding and wind turbines.
HÖRMANN GmbH & Co. KG Industrietechnik was formed as a separate subsidiary in 1995.
Funkwerk Dabendorf was acquired in 1996. Shortly afterwards, the company significantly expanded its business activities with the launch of an amplifier for mobile communication in vehicles.
In 1990, HÖRMANN employed so many people that a private train was needed for the company trip.
23 August 1990 - HÖRMANN takes a trip into the blue.
In 1997, Deutsche Beteiligungs AG came on board as an investor in order to strengthen the equity base and prepare the HÖRMANN Group for potentially going public.
At the turn of the millennium, more than 1,000 employees were working in industrial engineering, which had switched its strategic focus to services for large-scale industry and secured numerous key projects in Germany and abroad.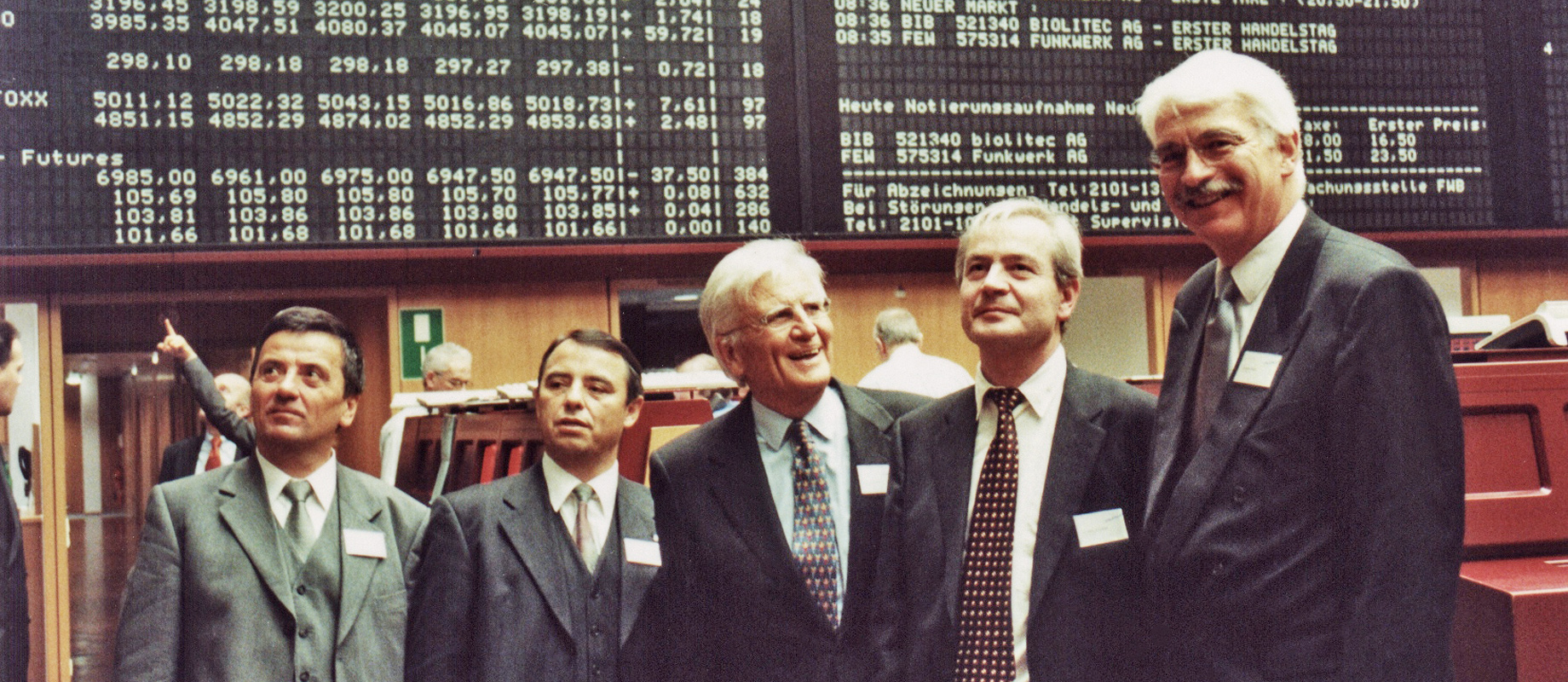 THE NEW MILLENNIUM – THE 2000S
The new millennium began with Funkwerk AG becoming the first HÖRMANN subsidiary to go public. It was listed in the "Neuer Markt" segment of the Frankfurt Stock Exchange for the first time on 15 November 2000. In the years that followed, Funkwerk AG developed into something of an insider's tip among stock market investors thanks to its successful portfolio expansion.
HÖRMANN Industrietechnik also sold 25.1% of its shares to DIW AG – Deutsche Industrie Wartung – in order to allow it to rapidly expand its international activities.
Funktel GmbH in Salzgitter was acquired in 2001 as a subsidiary of Funkwerk AG.
Funktel specialises in internal mobile communication and personal security systems.
Raytek Inc. became the market leader for portable infra-red heat measuring systems in 2002. 2002 also saw the merger of HÖRMANN GmbH & Co. KG Industrietechnik and Hörmann Barkas GmbH to create Hörmann Industrietechnik GmbH.
In 2003, the foundations were laid for a Group-wide IMM alliance for industrial site services from a single source.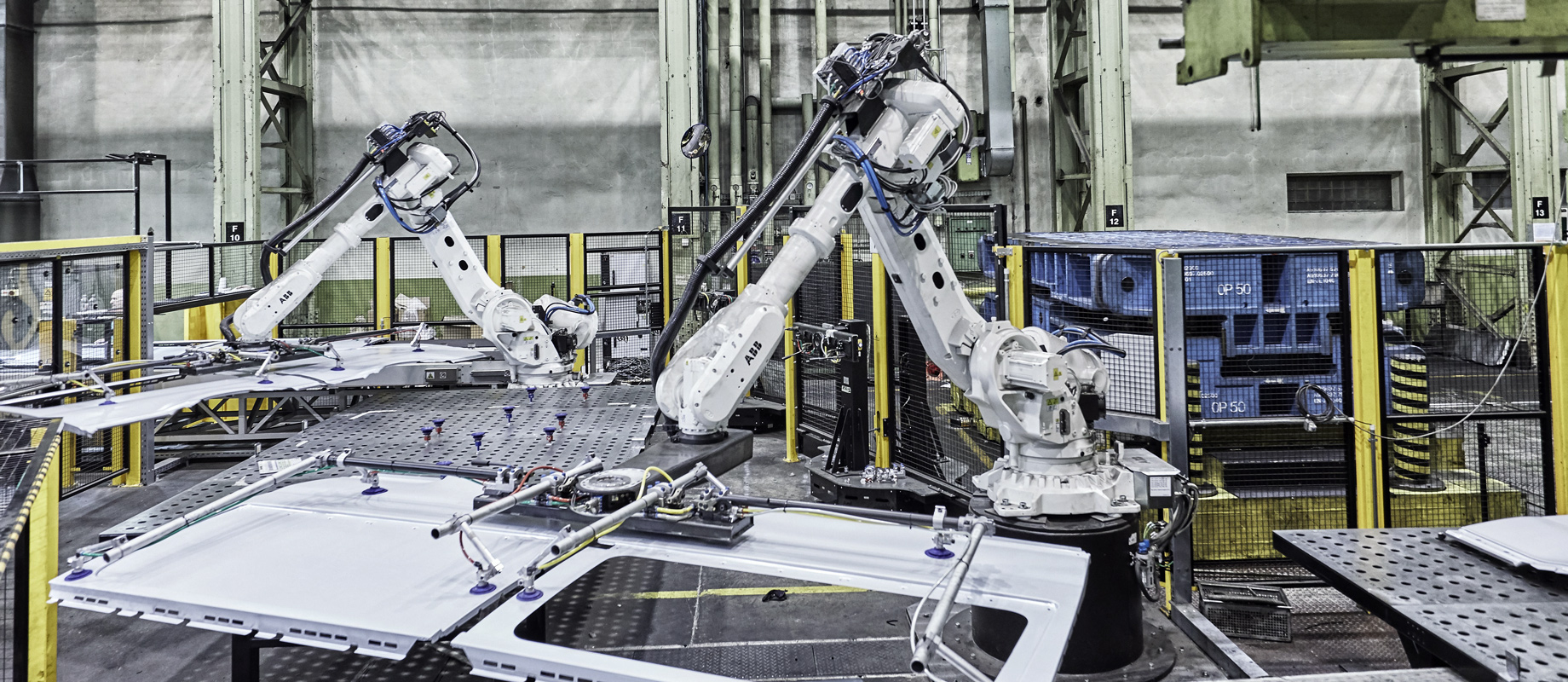 In 2004, Hans Hörmann bought back the shares held by Deutsche Beteiligungs AG, becoming the Group's sole shareholder once again.
Last but not least, the Saarbrücken plant was also spun off from Hörmann Industrietechnik in the same year and acquired in full in order to create HÖRMANN Komponentenbau.
HÖRMANN Komponentenbau (today: HÖRMANN Automotive Saarbrücken) and HÖRMANN-Presstec (today: HÖRMANN Automotive St. Wendel), together with the recent acquisitions HÖRMANN Automotive Eislingen, HÖRMANN Automotive Wackersdorf and HÖRMANN Automotive Bielefeld, sustainably expanded this area and established HÖRMANN as a major OEM supplier for commercial vehicles and agricultural machinery.
By the time of its 50th anniversary in 2005, HÖRMANN had over 4,000 employees at more than 60 locations on four continents. HÖRMANN also purchased shares in ACP Penzberg GmbH, which was acquired in full in 2008.
2005 also saw DIW AG increasing its equity interest in HÖRMANN Industrietechnik to 49%, making HÖRMANN and DIW jointly one of Europe's biggest industrial providers for technical services. Three years later, in 2008, VOITH – by this time the sole shareholder of DIW – acquired HÖRMANN Industrietechnik in full.
Since 2006, the HÖRMANN Group has expanded its automotive activities not only through the acquisition of the ACP component plant in Penzberg from MAN (today: Hörmann Automotive Penzberg), but also through the component plant in Gustavsburg that was operated together with MAN from 2007 onwards (today: HÖRMANN Automotive Gustavsburg).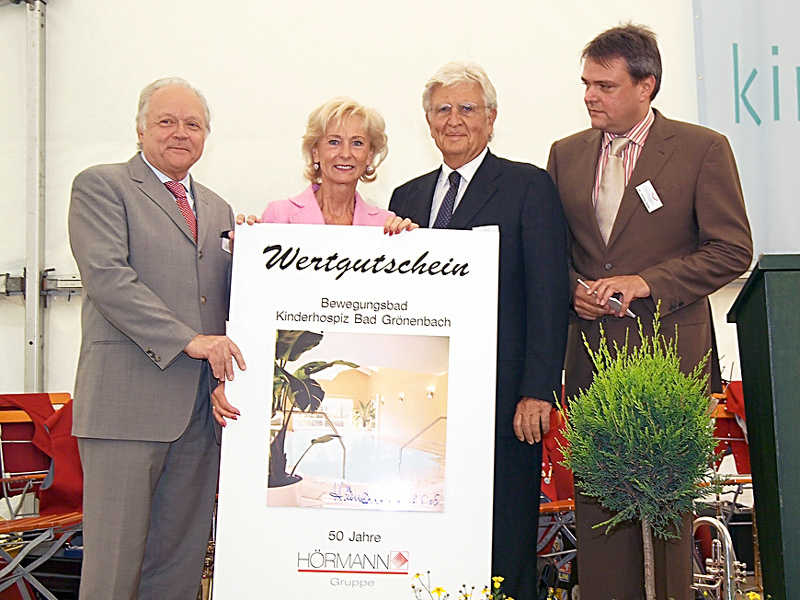 In 2005, more than 4,000 people work at HÖRMANN at over 60 locations on four continents.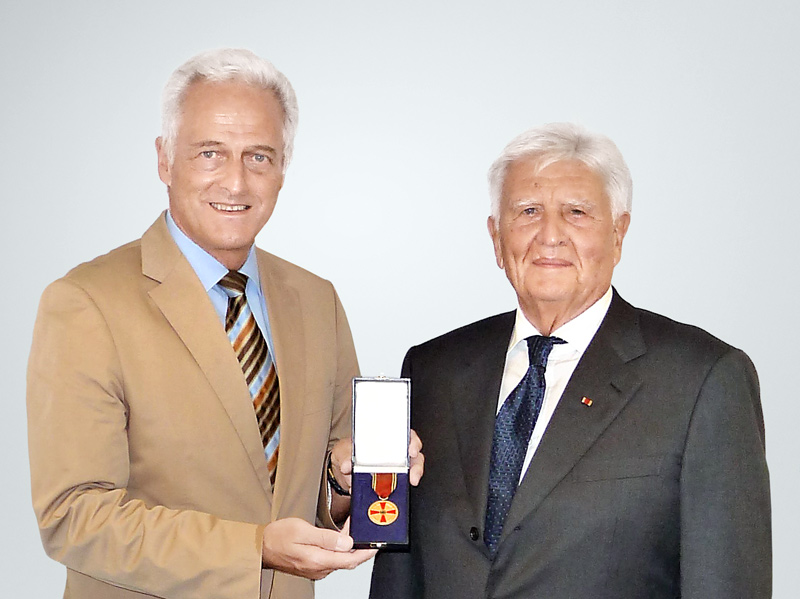 In 2011, Hans Hörmann, founder of the HÖRMANN Group, was awarded the Medal of Merit of the Federal Republic of Germany (Federal Cross of Merit) in recognition of his work on behalf of the German economy. The former German Federal Minister for Transport, Building and Urban Development, Dr. Peter Ramsauer, presented him with this special honour and praised his entrepreneurial achievements.
 
HÖRMANN Automotive Slovakia s.v.o. was formed in Bánovce nad Bebravou, Slovakia, in August 2016. The new component plant in the Automotive segment already began contributing significant production volumes in 2017.
In 2017, HÖRMANN Finance GmbH, which bundles the operating subsidiaries of the HÖRMANN Group, was renamed HÖRMANN Industries GmbH in order to reflect its role as an industrial holding company.